On November 10th 2009 there was supposed to be a White Lies gig in Vienna. It never took place due to Harry McVeighs, the singers, voice not working. We, their fans, were promised a new show in February. This "show" was yesterday. I nearly couldn't go, because of some problems with my dad and work (what is the same in general). A collegue of mine had to work a double-shift (he wanted to anyways) to make it possible
for me to see White Lies live in concert! The support band, and here I will quote my sister,
"
play faceless, less than mediocre indie rock songs, plagiarising shamelessly.
"
(Click to read her full rant about the support band, go on, it's funny!) At ten, White Lies finally entered the stage. Harry McVeigh didn't look that great, but I was to distracted by the drummer looking like Nicholas Hoult.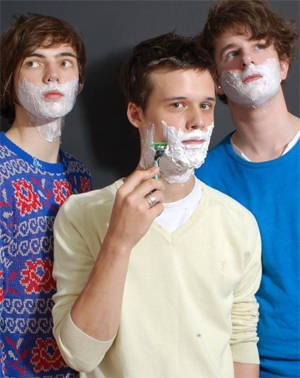 Hot piece of shit, I know. (You don't really see it in the pictures, I like the pictures though.) Also, the drummer is very skilled!
However, already in the first song, Harrys voice cracked! It literally cracked! When he was singing, you saw the pain it caused him, in his face. It did fit the mood of the songs though. Anyways, my sister, our friend and I felt very sorry for him and expected nothing else then what happened. After 3 songs, Harry told us, they were going to take a 5 minute break, to let the drugs (as in medicine) kick in. Two minutes later, a promoter appeared onstage and told us that White Lies were going to play one more song, and how sorry they are, but that Harry just could't make it without probably dying (I'm overdoing this here), and that they'll think of some sort of refund/another gig with the old, used tickets.
I can't wait for next time, those 4 songs were awsome! Hopefully, next time, there'll be no voice-cracking of any sort. And hopefully, there is going to be a next time! And hopefully, there'll be no venue-change!